TURN 11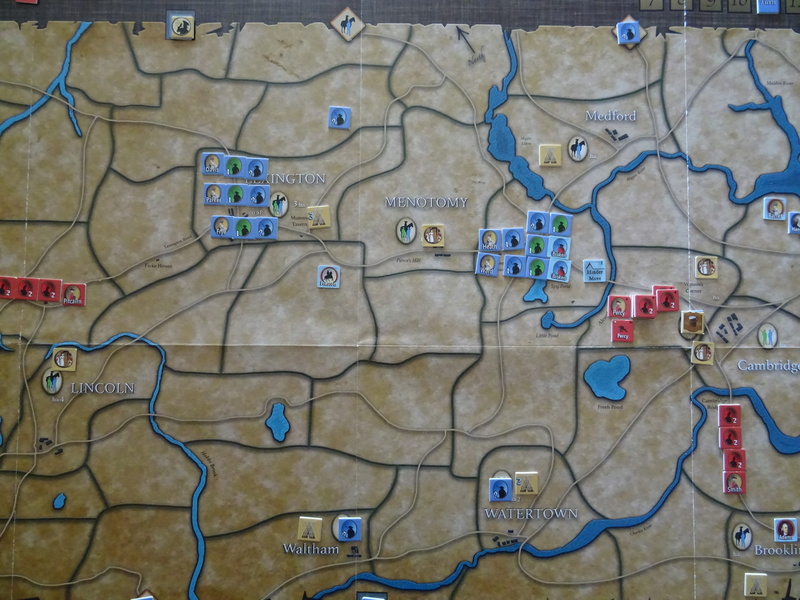 Pitcairn in the west, Percy in the East, and me behind him are converging on Lexington.
In front of us, two equal forces of militias and minute men, one in Lexington with 6 units, and one of 6 unbroken  units east of Menotomy.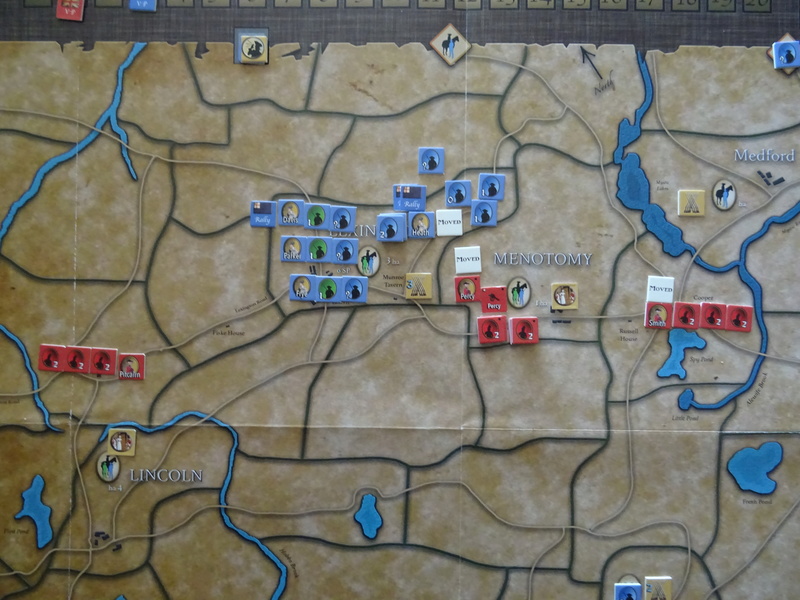 The two rebel forces concentrate in Lexington.
Percy marches to Monotomy, I move with speed  to be in contact with him and rally one unit broken by the forcemarch.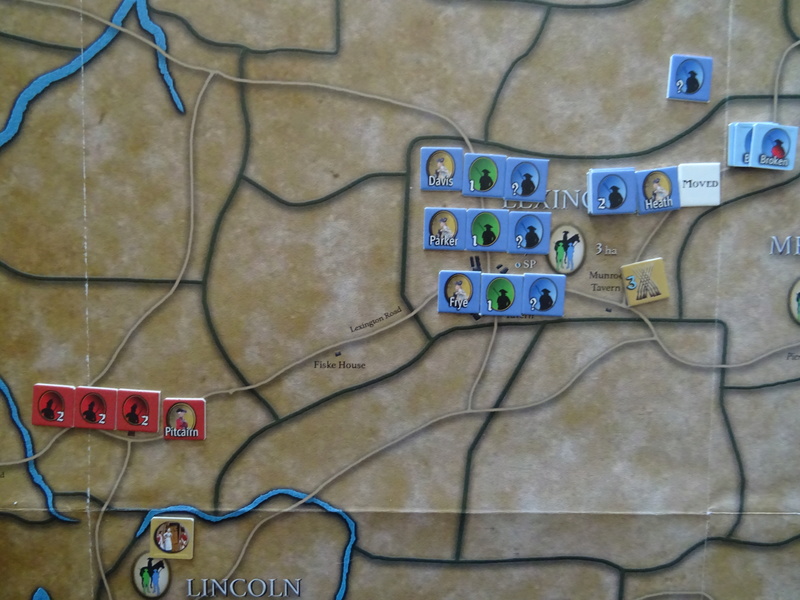 Pitcairn stops moving and waits sometime, he doesn't want to be first in Lexington facing alone a huge rebel force.
Some rebels try to ambush him to no avail.
TOUR 12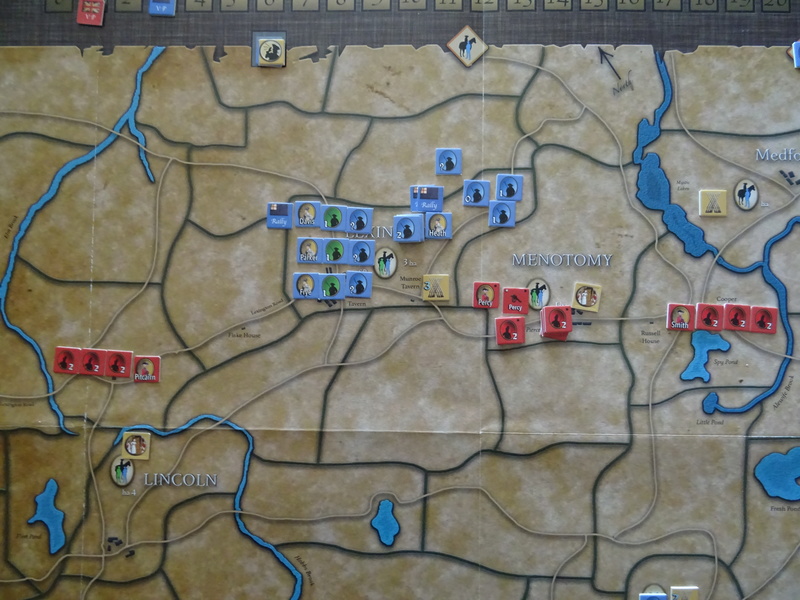 Percy enters first in Lexington, using his two 6 pdr Guns to broke a rebel unit which is rallied quickly.
The rebels don't dare Attack Percy force...they should have !
Because he had only 6 unbroken units to 14 ones for them, with a great difference in quality but never  will they have better odds.
They prefer  to try to hinder Pitcairn march towards Lexington.
And Snipe at Percy column...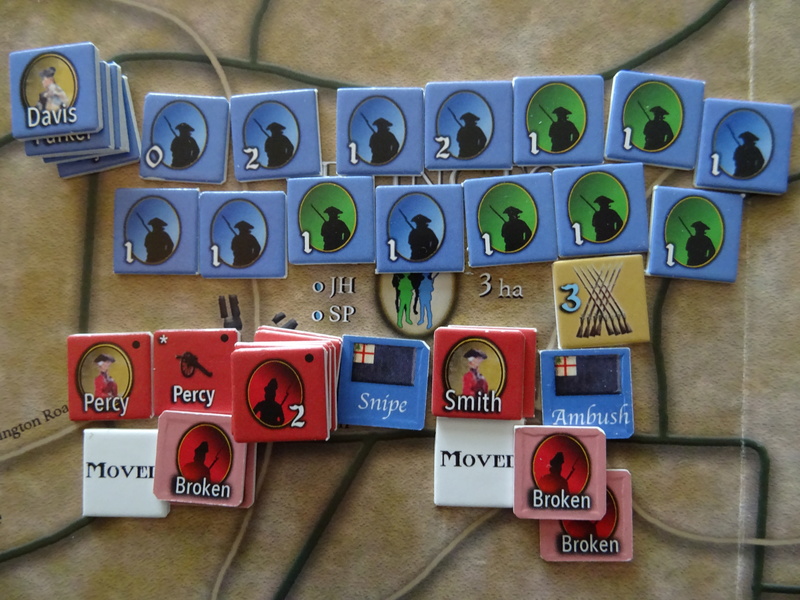 Then i reinforce Percy at Lexington with a force march.
Two of my three units of grenadiers broke, one by the force march , one during an ambush.
And Pitcairn get out the move hinder.
We had only three actions left (one left and Two in reserve)
Three actions for a win...
Pitcairn join us, inspite of an ambush where one of his units broke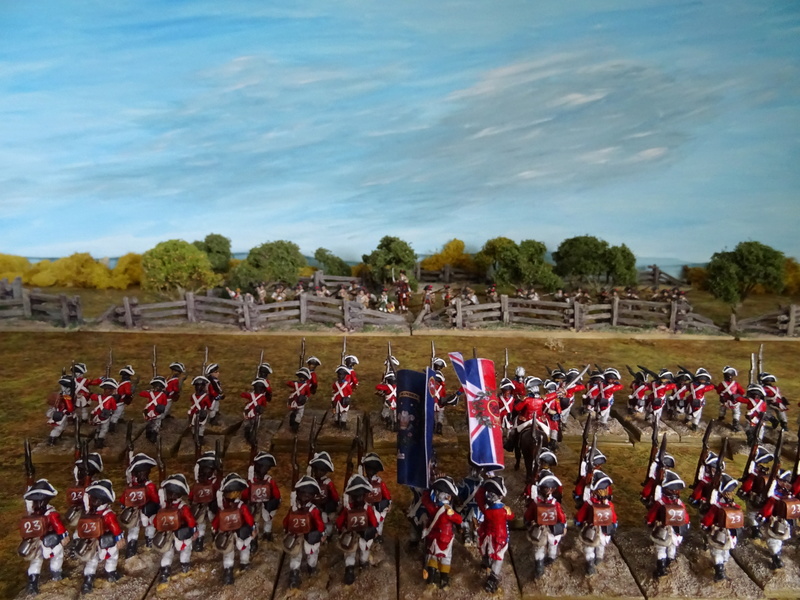 Then Percy commanded the Attack, we moved in two lines,  in silence,   their leader on horse was  shouting orders
the rebels were protected by wooden fence
They  couldn't wait point blank fire to deliver their volley...because most of them were militias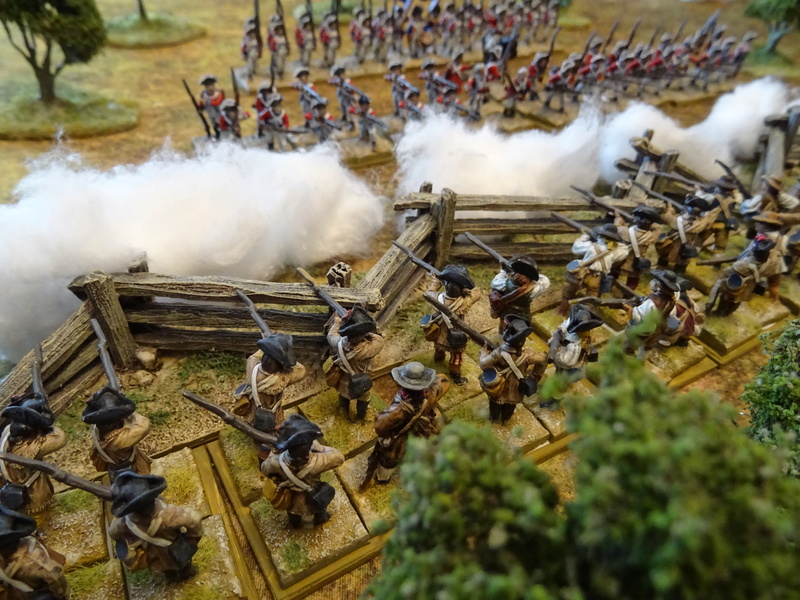 We halted to return fire, with a devastating volley,
then we levelled bayonet to charge with a rousing cheer !
It had a crushing psychological impact on their morale, they beagan to retreat here and there, abandoning their position in the utmost disorder.
We received 5 hits (+1 for simultaneous fire) and gave 10 hits to those damned rebels (1 by Cannon and 9 by infantry fire), who choose to retreat.
Victory ! On the battlefield, certainly, on the politic side we'll see...
Then we searched and found the rebel arms caches.